The Abarth 595 gets treated to a light refresh as part of the 500's facelift. We've driven the Competizione on demanding North Yorkshire roads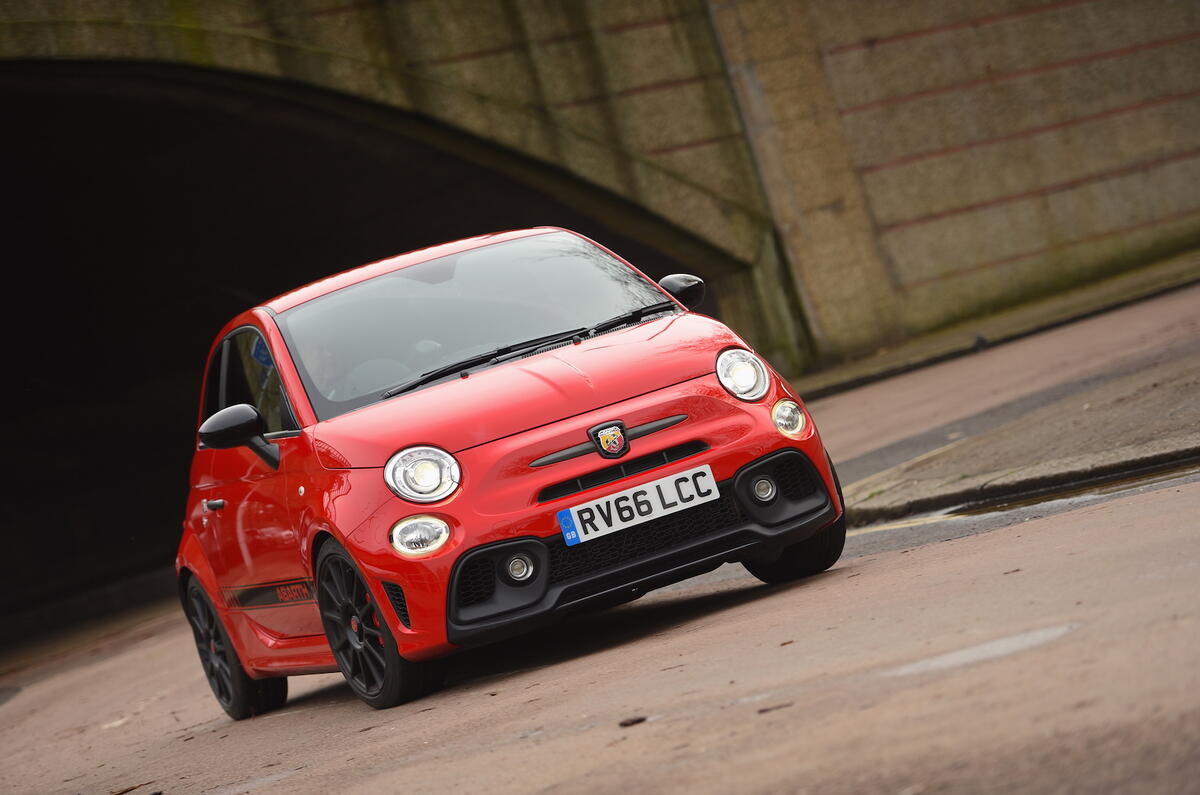 What is it?
With the Abarth 124 Spider doing most of the headline-grabbing lately, it's all too easy to forget that it's the car that we're testing here which put the Italian tuning company back on the map. First released in 2008, the 500 Abarth, with its cutesy looks, characterful engine and classless image showed that Abarth could stand on its own as a separate marque from Fiat. That's no easy feat – just ask Citroën about DS.
However, in recent years, the car has struggled somewhat, with its premium price putting it directly in the firing line of some exceptionally talented hot hatches. Abarth's response? To release a run of even more expensive special editions, such as the 695 Tributo Ferrari, Abarth 595 Yamaha Factory Racing and 695 Biposto – the latter coming equipped with a spectacularly expensive £8,500 race-bred five-speed dog ring gearbox.
However, the car has been treated to a refresh that isn't absurdly expensive or limited run; the latest 595 being launched in a three-trim line-up with three different engine outputs. All are equipped with the familiar turbocharged 1.4-litre T-Jet motor, but it's the top-spec 178bhp Competizione model that we're particularly interested in. Chiefly, because it comes with an all-new mechanical limited-slip differential.
Buyers of the manual Abarth 595 Competizione can also specify 17in Supersport alloys on their car, as part of a new Performance Pack, which adds Sabelt leather and Alcantara seats with carbonfibre shells, 595 badging in the interior and a red, white or gloss black finish for exterior and interior trim. As standard, the Competizione also gets uprated Koni FSD dampers all-round and a more potent Brembo braking system with 305mm perforated discs.
We tested the Competizione in Italy late last year, and were impressed with its revised chassis, but now it's time to subject it to bumpy British B roads, the ultimate lie-detector test.
What's it like?
Energetic. Turn the key and the turbocharged 1.4-litre bursts into life with an intensity that is entirely unbefitting of a car this size. Below 30mph, small throttle inputs have the Abarth gurgling, popping and crackling, eliciting scornful looks from confused onlookers. Even without leaving town, it's clear that this is not a hot hatch for those who crave anonymity.
Thankfully, once we were out onto the desolate North Yorkshire moors, it was possible to exploit all 178bhp away from prying eyes. Stretch your right foot and there is inevitably some turbo lag before you get into the meat of the power, but once past 3000rpm the Competizione pulls with a fervour that is lacking from the more powerful yet portlier Mini Cooper S. In fact, with a 0-62mph time of 6.7sec and 143mph top speed, straight line performance is on a par with our favourite hot hatch; the brilliantly effervescent Ford Fiesta ST200.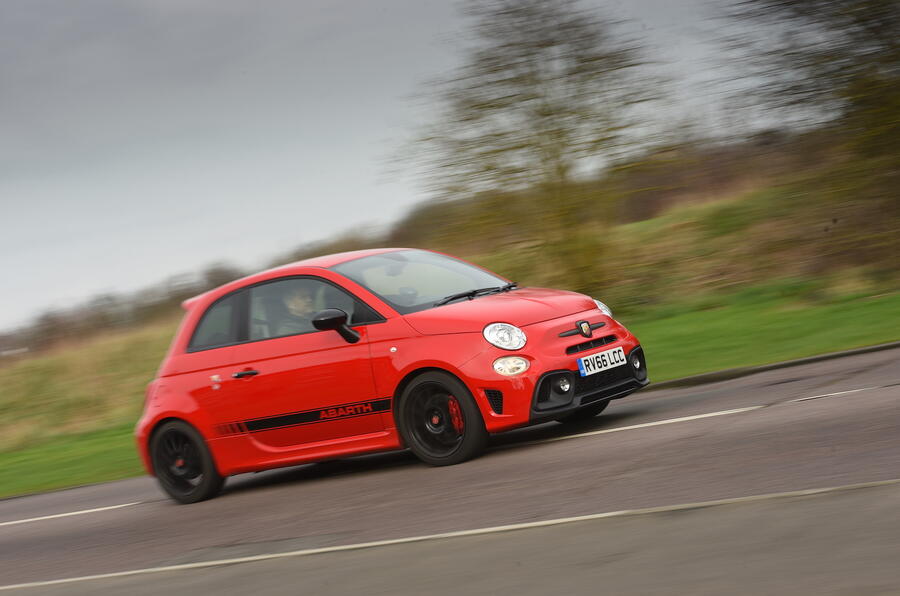 However, straight line pace has never been the Abarth's problem. Instead, it's the 595's lack of adjustability that has prevented it from being looked upon as a truly rewarding driver's car. And unfortunately, that hasn't changed here. The new limited-slip diff feels almost intermittent in its operation and the car's innate tendency to succumb to understeer early is still a prevalent theme. Compared with the best hot hatches, which allow you to modify your line with a lift of the throttle or some well-calculated braking, the 595 feels rather one dimensional.
That said, despite not being the most involving hatch on the market, the 595 is still startling quick point to point. Uprated Koni frequency-selective dampers endow the 595 with impressive body control, and allow the top heavy Abarth to remain surprisingly flat through quick direction changes. Granted, on busier road surfaces, things can get fairly lively inside the cabin, but it's something we'd be prepared to live with in return for the precision of the Abarth's movements when things get twistier.
However, what we'd struggle to live with is the Abarth's carbon backed Sabelt seats. From the Alcantara inserts, to the fighter jet inspired seat pulls, these £1,200 competition spec units are dripping with quality. And yet, for everyday driving, they are wholly inappropriate.
With minimal cushioning and a lack of lumbar support, back pain is guaranteed, and despite their sporty looks, you feel like you're sitting on them rather than in them. And don't try adjusting them on the move, either. With a spatially challenged interior, it's virtually impossible to reach the seat adjuster without opening the door. A triumph of function over form? Absolutely.
Should I buy one?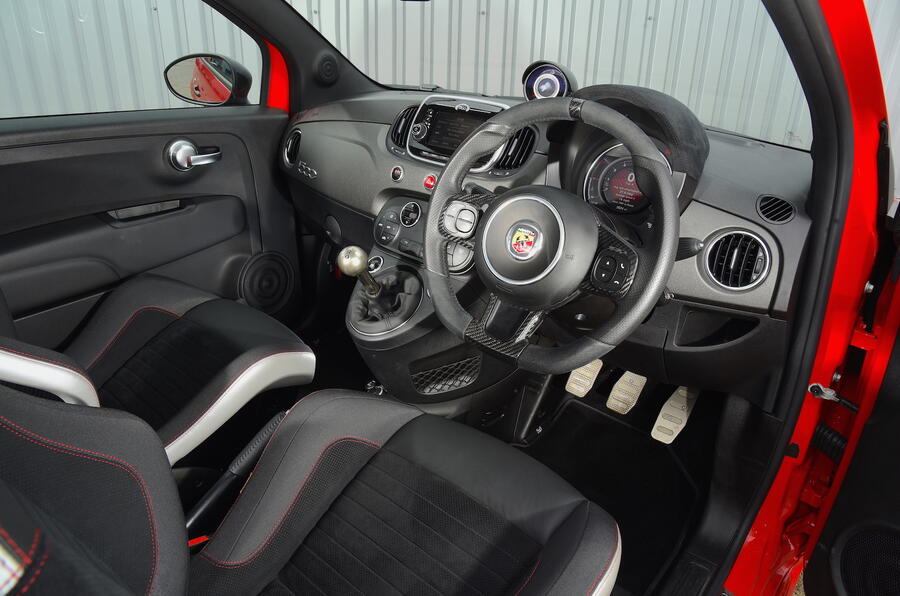 From Chelsea to Chester the 595 Abarth remains a common sight, despite commanding a significant premium over more complete hot hatches, such as the Fiesta ST and Renault Clio RS. Why you might ask? Character. With its city-car on steroids looks, silly soundtrack and extravagant carbon-fiber laden interior, the 595 is desirable in a way that something like a Mini Cooper S simply isn't.
Yes, it's a shame that the addition of a limited-slip differential and uprated dampers haven't endowed the Abarth with the kind of playful chassis we've come to expect from modern hot hatches, but will that affect sales? Will it heck.
Abarth 595 Competizione 2017
Location North Yorkshire; On sale Now; Price £20,290; Engine 4 cyls, 1368cc, turbo, petrol; Power 178bhp at 5500rpm; Torque 184lb ft at 3000rpm; Gearbox 5-spd manual; Kerb weight 1045kg; Top speed 143mph; 0-62mph 6.7sec; Economy 47.1mpg (combined); CO2/tax band 139g/km, 24%