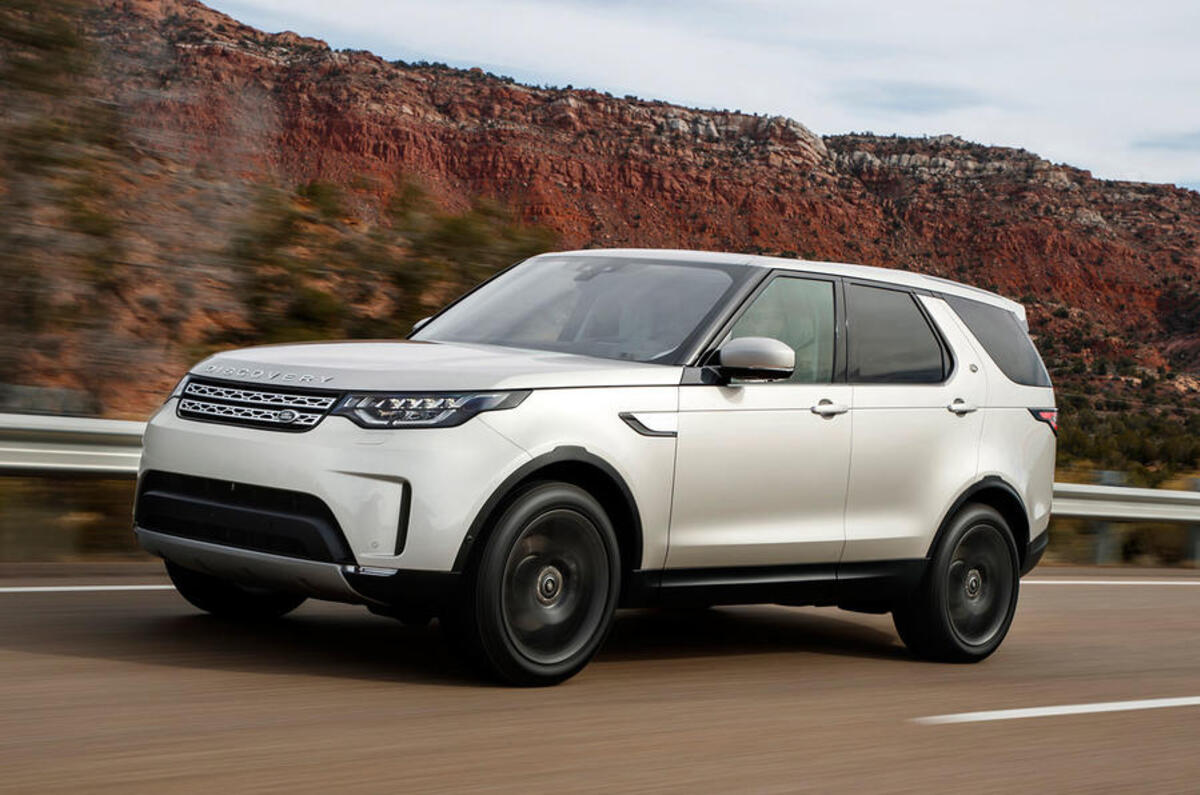 The most important new car of 2017? The new Land Rover Discovery is certainly one of them, and when we say it's new, we mean it's new-new. You can probably see that yourself, mind. 
The previous-generation car, the Discovery 4, looked a lot like the Discovery 3, only was far more upmarket inside. And it drew a lot more sales by being that way. That's what gave Land Rover the impetus to up the 'premium' count again and make the Discovery a family of cars and launch the Discovery Sport.
In its place is a car that's more Ranger Rover-esque around the front. Land Rover is aware it's playing with a car that owners have dearly loved and bonded with, so is at pains to say it has carried over many Discovery cues, such as some shapely metalwork around the C-pillar, a clamshell bonnet (though a Range Rover gets one of these too), and a roofline gently rising all the way to the rear.
This is essential to package the seven full-sized seats which Land Rover says are crucial to the Discovery's success – and which differentiates it from a Range Rover. It uses words like 'lifestyle' and 'versatile', but what it's talking about are the things that have made it a great family car in the past.
Getting underneath the Discovery's skin
More on that in a moment, but first, technical details. As with the Range Rover Sport, the old Discovery's separate chassis and body has been replaced by an aluminium monocoque, suspended by double-wishbones at the front and an integral link setup at the rear, just like the Range Rover.
There are differences, though: instead of aluminium subframes front and rear, the Discovery uses steel ones; heavier, yes, but they take up less room, which is what allows a full-size set of seats in the third row, a deep luggage space (up to 2406 litres) and room for the full-size spare wheel that buyers of 'proper' 4x4s will consider essential.
This make the new Discovery lighter than its predecessor, obviously – by up to 480kg according to the headline figure. As ever, it's not quite that simple: the body itself is 250kg lighter, the chassis 130kg, with the rest coming from the fact that the entry-level engine is no longer a V6 turbodiesel, but a 2.0-litre four-cylinder from Land Rover's Ingenium family. Bit worrying, that.
The Discovery is lighter, yes, but it's still a 2184kg car. It's also at least a £43,495 one, with a top-spec 2.0 HSE Luxury asking £62,695. All big numbers to be accompanied by '2.0'. Some markets (though not the UK) will even get a 178bhp 2.0 base engine, but our way into the Discovery range is at least a new variant of the Ingenium unit, with two turbos of unequal sizes and making 237bhp at 4000rpm and, crucially, 368lb ft from just 1500rpm; claimed to be good enough for a 0-60mph time of 8.0sec.
The rest of the engine range is made up with a turbocharged 3.0-litre V6 diesel good for 254bhp and a supercharged 3.0-litre V6 petrol punching out 335bhp.
It drives all four wheels through an eight-speed automatic gearbox, there is a low ratio transfer case, and the Discovery gets the full suite of Land Rover's latest 'terrain response' system, which manipulates power delivery, throttle response, differentials and so on, to make this car – absolutely no question, says Land Rover, so don't be fooled by the sleeker new looks – simply the most capable car off-road it has ever made. It can wade 900mm, its maximum ground clearance is 283mm, and it has half a metre of axle articulation. It'll go further than any Discovery, Range Rover, or even Defender, before it, they say.
Inside, most of the things that made the old Discovery a Discovery have been retained. What we always liked about this car – and what got under customers' skin – was how relaxing it was to drive. It took the S out of SUV, with a high driving position, low window line, and very clear ends to its body, making it easy to place.
Some of that has been compromised by the new appearance. I feel like you sit a touch lower, in a more car-like driving position, but the window line is still lower than in most rivals, the mirrors are big and you can see the most part of the bonnet. The rear window is large too, although now lacking in the cut-out half way across it – instead only the number plate holder is skewed, making the back of your Discovery look like it's had a stroke.
Like the rest of the design, Land Rover is aware that, with the tailgate, it's messing with something customers loved, by replacing a two-piece one with a one-piece, top-hinging plastic tailgate: it points out, before you've even asked, that the first Discovery had a side-hinged tailgate and that these things always evolve, so please don't think badly of the company for doing it. I was tempted to, but as standard there's a powered flap inside the boot, which does the same thing as the split-tailgate: can hold 300kg when it's lowered and you sit on it to change out of your wellies, and helps keeps dogs or shopping in place when it's raised.
The rest of the interior continues the best of the previous Discovery's themes; it gets big buttons, and clear dials, there is masses of storage space dotted around the cabin, entry to middle and third rows of seats is easier than ever and the rearmost seats themselves are more accommodating than ever. It really is a genuine seven-seater in a way that an Audi Q7 or even a Volvo XC90 just aren't; this is a very useful car, but a lot of car to be powered by a 2.0-litre engine, right? So you'd think.
On the equipment front, there are four core trims – S, SE, HSE and HSE Luxury. Entry-level models get 19in alloy wheels, heated door mirrors, autonomous emergency braking, lane departure warning, air conditioning and Land Rover's 8.0in touchscreen InControl infotainment system.
Upgrading to SE adds parking sensors, leather upholstery, sat nav, LED headlights, electrically adjustable and heated front seats and dual-zone climate control. HSE models gain an extra layer of luxury including a panoramic roof, a reversing camera, heated rear seats and a 10.0 touchscreen infotainment screen.
The range-topping HSE Luxury gets a rear entertainment package, ventilated seats all round, a 360-degree camera system, four-zone climate control, 21in alloy wheels and a Meridian sound system.
Discovering the Land Rover's surprises
First surprise: this new Ingenium unit is quiet. I'm not sure if it's the new engine derivative or the installation that makes it so, but the Ingenium is massively vocal in a Discovery Sport – far more so than, say, an Audi Q5 – and pretty gruff in a Jaguar XE.
Here it just isn't; I'd swear it was quieter than the V6 diesel in the old Discovery, and certainly more refined than Volvo's XC90. Serve a dining hall with rice puddings and it'd even remove their skins, too.
Before this drive, a couple of Land Rover employees told me they'd been driving the 2.0-litre and that it had plenty of power, which is the sort of thing you take under advisement. But they were right. Throttle response is fine, torque is high, and you don't have to work the 2.0 nearly as much as you might think to make progress.
Obviously, if you tow a lot of stuff – the Discovery has traditionally been a fabulous tow car, and still has a 3500kg limit – you'd want a 3.0-litre diesel, which makes 254bhp and a more oofsome 443lb ft. It's probably not that much less economical, either. Instead of the 2.0's claimed 44.8mpg mpg (we saw around 30), the V6 is 39.2mpg, but you probably have to work it less hard, less often, and the premium is only £3k.
What engineers will say, though, is that the 2.0 – by dint of being a good 70kg lighter than the V6 – is the better handling car of the two.
The weight of an adult missing from the nose means that the Discovery steers and turns more easily and its weight distribution is close to 50:50. It's still no sports car, or even sports SUV, you should understand, but it's extremely satisfying to drive, even if it's a touch less imperious than it was.
The steering is 2.7 turns between locks, pleasingly weighted and smooth, brake and throttle weights are good, and the seats are armchair comfortable, which all go to make the Discovery an extremely relaxing car.
Our test car rode on 20in wheels with 255/55 profile tyres; and we suppose the world is coming to something when you think: 'phew, these are some of the smaller ones, so should be kinder on the ride'. You can have up to 22s, but we probably wouldn't. Certainly, on 20s, the ride is isolated as smooth as it always was, but now with better body and roll control, too. It's still a Discovery in character, but enhanced.
A real contender or another plucky Brit?
We know what some of you will be thinking. Don't think we don't read the comments: 'British mag, British car, of course they'll love it'. Listen: the last time we wrote a Discovery group test the Land Rover was beaten by a Volvo.
Ride and handling aside, a Jaguar XE is inferior to a BMW 3 Series. A Discovery Sport's Ingenium motor is so vocal that I'd have an Audi Q5, perhaps a Mercedes-Benz GLC, instead of one.
I'm still not sold on the looks, but maybe that's just me, because on the day the car goes into showrooms, Land Rover has already taken 20,000 orders.
And certainly, while it looks less like the bluff, blocky Discovery whose character farmers, shooters, horse owners, towers and, quite frankly, big families have come to adore, its intrinsic personality, beneath it all, is, if anything, enhanced.
From the outside, I really thought they'd screwed it up. And I do think Discovery 3 and 4 will become standout classics in future. But make no mistake: this is one of the world's most capable cars.